16ft x 16ft Of Guard Rails For Aluminum Stage Systems
Your guests will perform with confidence on stages and risers supported all existing Smilestaing Accessory. Excep the legs, risers, stair,
Safty Guard Rails
are ideal for outdoor performance or events. The Aluminum Staging guard rails bring easy access and safety to your stage. The width is matched based on your stage platform, attaches easily to edge of aluminum stage panels. Stairs guard rail is available as well.
Attached picture is 16ft x 16ft project with 8 pieece 8ft guard rails and 6 piece 4ft guaid rails. How to assemble safe guard rails for your aluminum stage systems? It's quite easy. The rails combine with legs and square riser, we just need to set up the legs first and then put on square riser, that's all.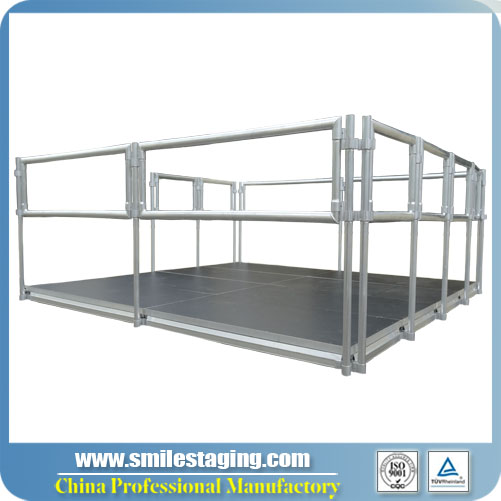 Other size for your choice, we can match based on your different event or performance.
Various Size Of Aluminum Stage Platform Guard Rails:
| | | |
| --- | --- | --- |
| RK-ASGR100 | Wide = 100CM | Height = 1M |
| RK-ASGR122 | Wide = 122CM | Height = 1M |
| RK-ASGR200 | Wide = 200CM | Height = 1M |
| RK-ASGR244 | Wide = 244CM | Height = 1M |
Various Size Of Guard Rail Legs:
| | | |
| --- | --- | --- |
| RK-ASGRL0406 | Matching 0.4m~0.6m | Height = 1M |
| RK-ASGRL0610 | Matching 0.6m~1.0m | Height = 1M |
| RK-ASGRL0812 | Matching 0.8m~1.2m | Height = 1M |
| RK-ASGRL1015 | Matching 1.0m~1.5m | Height = 1M |
| RK-ASGRL1520 | Matching 1.5m~2.0m | Height = 1M |